< BACK

I Woke Up & Chose Violence
2022
Presented and supported by Recess as part of their Session Program

I Woke Up & Chose Violence is an invitation for a critical engagement with violence. This project asks how and why violence has become an ideology and empathizes for whom and when non-violence may not be an option. It hopes to prompt a relationship with violence that could potentially be generative for non-hegemonic bodies.

This project is part of a five-year reexamination of the narratives around the Indigenous practice of headhunting in the Philippine Islands. Historically, these practices functioned as a moral rationale for civilizing missions by Western imperial powers. Garcia is interested in symbolically recuperating headhunting's role as a psycho-spiritual ritual for processing and dissipating profound personal grief, whilst extending this notion of grief to the burdened histories of colonial erasure that persist in our present day. I Woke Up and Chose Violence, therefore, leads with an unconventional ethos and flirts with transgressions in dealing with the subject of violence.

During the Session, Garcia transformed the gallery into a hybrid space: part-studio, part-training gym:

The studio featured the artist working on an evolving installation made of reimagined, 3D-printed weapons based on period and improvised weaponry traditionally used in headhunting expeditions, (such as daggers, swords, axes, spears, etc.) and self-defense training tools. These weapons went through a process of re-rendering through an intersectional feminist and diasporic intervention, decoupling the objects from hyper-masculinized, patriarchal affiliations.

The "gym" functioned as an arena for Filipino Martial Arts (FMA) training. Participants were invited to a one-on-one experience with the artist which involved a guided exploration with the training weapons, followed by a design session for the participant to create their own personalized weapon based on somatic observations and conversation with Garcia, and their inner dialogue.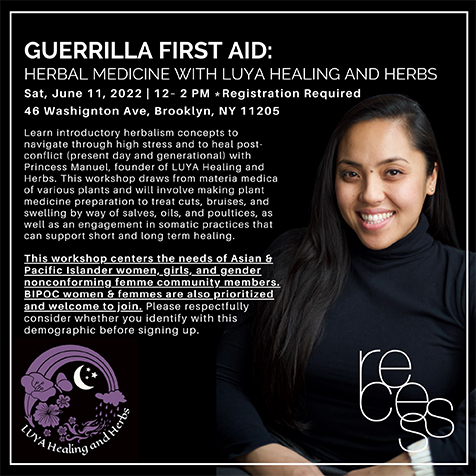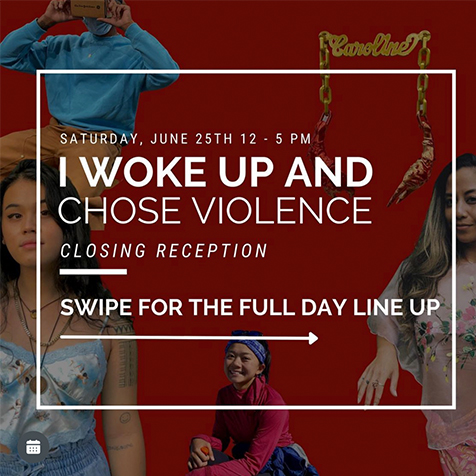 Additionally, Garcia facilitated free public programs for her Session:


- Self-defense Classes x 4 (led by Guro Kristen Cabildo)
- Guerrilla First Aid Workshop: Herbal Medicine (led by Princess Manuel)
- Guerrilla First Aid Workshop: Improvised Medicine (led by Dr. Kristi Tran)
- A closing reception which featured mini workshops and demos by Ngani Liwayway, Dr. Emily Siy, and Sisters in Self Defense; poetry by Noelle de la Paz and a performance by the Chrysalis Kali Collective; as well as activations and community collaborations with Little Manila Queens and Kimberly Tate (full details here)

I Woke Up & Chose Violence centered the needs of Asian and Pacific Islander women, girls, and gender-expansive femmes (also welcoming BIPOC women/femmes). By leaning into the emotion of rage as well as a critical engagement with violence – an approach historically imperative to women warriors and female fighters – a deliberate tool for political warfare and self-preservation can be determined. This project is an act of ethnographic refusal and resistance to the commodification of trauma by exploring self-defense, attack, and healing. It not only preserves indigenous rationales, but also honors and modifies them to our current survival needs.